Video Games
1993 - Jurassic Park - Genesis
1993 - Stimpy's Invention - Genesis
1993 - Jungle Book - Genesis & SNES
1994 - Earthworm Jim - Genesis & SNES (cross platform)
1995 - Earthworm Jim 2 - Genesis & SNES (cross platform)
1996 - The Neverhood - PC
1998 - Skullmonkeys - Playstation
1999 - Boombots - Playstation

Presently Doug works as a Gaming consultant due to his knowledge and experience gained from working in the video game industry.
Earthworm Jim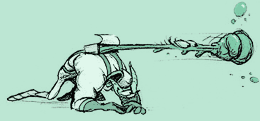 While Doug was working with the original EWJ team at Shiny in 1993, he was responsible for creating many of the key characters in Earthworm Jim, including Jim, Evil the cat, Queen Slug for-a-Butt, Psy-Crow, Princess What's-Her-Name, Chuck & Fifi, Doc Duodenum and Peter Puppy.


Earthworm Jim LIVES! Interplay inks deal with creator to relaunch the legend.
BEVERLY HILLS, CA, APRIL 22, 2008 – Interplay Entertainment Corp. (OTC BB:IPLY) announced today that the company signed a partnership arrangement with Earthworm Jim creator Douglas TenNapel to relaunch the videogame icon.
TenNapel will serve as a creative consultant on Earthworm Jim 4, and will simultaneously develop an animated series and feature film to expand the well known brand. (Full press release at Interplay)
Earthworm Jim Sites
Earthworm Jim has a very loyal following!

The Neverhood & Skullmonkeys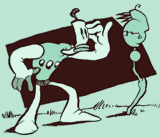 The Neverhood game was famous for being animated by the method of stop-motion animation - characters were made from wire armatures and then modelled with clay and other materials. It was published by Dreamworks Interactive.
Neverhood sites
The Neverhood also has a very loyal following!