Armikrog.
From the creators of the Earthworm Jim and The Neverhood games, comes a ground breaking stop motion clay animated adventure game called Armikrog. Based on characters created by Doug TenNapel, the game follows the adventures of a space explorer named Tommynaut and his blind alien talking dog named Beak-Beak as they crash land on a weird planet and end up locked in a mysterious fortress called Armikrog.
Video Games History
1993 - Jurassic Park - Genesis
1993 - Stimpy's Invention - Genesis
1993 - Jungle Book - Genesis & SNES
1994 - Earthworm Jim - Genesis & SNES (cross platform)
1995 - Earthworm Jim 2 - Genesis & SNES (cross platform)
1996 - The Neverhood - PC
1998 - Skullmonkeys - Playstation
1999 - Boombots - Playstation
2013 - Armikrog. (In development, release estimate 2015)
Earthworm Jim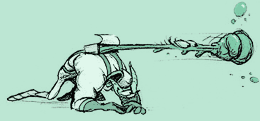 While Doug was working with the original EWJ team at Shiny in 1993, he was responsible for creating many of the key characters in Earthworm Jim, including Jim, Evil the cat, Queen Slug for-a-Butt, Psy-Crow, Princess What's-Her-Name, Chuck & Fifi, Doc Duodenum and Peter Puppy.


Earthworm Jim Fan Sites

The Neverhood & Skullmonkeys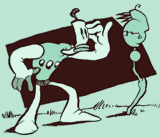 The Neverhood game was famous for being animated by the method of stop-motion animation - characters were made from wire armatures and then modelled with clay and other materials. It was published by Dreamworks Interactive.
Neverhood sites
The Neverhood also has a very loyal following!