Television
VeggieTales In The House
Doug is currently working on VeggieTales In The House with a brilliant art and writing team. For more information, please visit the official VeggieTales In The House site!
Bob the Tomato, Larry the Cucumber and all their veggie friends venture off the countertop and into a bigger world for the very first time in VeggieTales In the House, which brings the beloved faith-based brand to their first ever Netflix original series. With important life lessons and inspirational messages built into each story, every episode also features a brand-new song, ensuring that the veggies are always fresh ... and always fun!
(Description from the VeggieTales site).
Doug's first professional animation gig was for the Fox Saturday morning cartoon Attack of the Killer Tomatoes.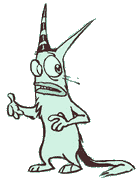 Catscratch
Doug signed a deal with Nick-Nick-Niiick-Nick-Nick-N-Nick-Nick-Nickelodeon to do a cartoon show based loosely on the GEAR comic!
See Nickelodeon's TV schedule for air times.
The TV show premise focuses on the antics of Mr. Blick, Gordon and Waffle. For more information, see Nick's Catscratch mini site.
Earthworm Jim
Doug finally got one of his own creations on TV and America hasn't been the same. (Really.) For more information on Earthworm Jim, see the video games section.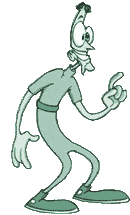 Project Geeker
Everything you wanted to know about Project Geeker and were afraid to ask (and you should be afraid to ask) can be found on ProjectGeeker.org - it's the only Geeker site in existence!
Push, Nevada
Doug was a consulting producer on the ABC prime time muder mystery Push, Nevada. It got cancelled so Doug moved his family into a cardboard box on Hollywood and Vine.

Push Exec. producer Ben Affleck was an avid Neverhood player so he got Doug to do the puzzle work for the TV show! Push, Nevada's $1,045,000 prize was won by Mark Nakamoto, 24, of West New York, New Jersey!