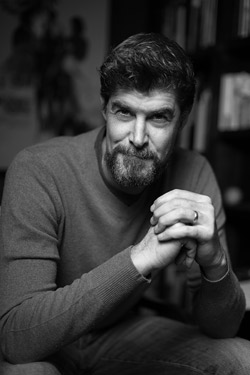 Doug TenNapel has worked in Television Animation & Video Games. He is the author of over 18 graphic novels.
Doug TenNapel is the acclaimed author and illustrator of GHOSTOPOLIS, BAD ISLAND, CARDBOARD and TOMMYSAURUS REX, all published by Graphix. Among other honors, GHOSTOPOLIS was an ALA 2011 Top Ten Great Graphic Novel for Teens, a 2010 Kirkus Best Book of the Year, and a School Library Journal Top Ten Graphic Novel for 2011 and a 2012 ALA Great Graphic Novels for Teens selection. CARDBOARD was named to the list of School Library Journal Top Ten Graphic Novels of 2012.
Doug also publishes comic books independently. You can find out more at the Doug TenNapel Comics website.
Doug is also the creator of the hugely popular character Earthworm Jim. He lives is Franklin, Tennessee, with his wife and their four children.
Doug writes thoughts and articles about his work on DougTenNapel.com, and has a YouTube Channel.